CAPACITY OF PRODUCTION
Krakowskie Zakłady Garbarskie S.A. ( KZG S.A. ) is the biggest tannery in Poland with over 90 years tradition in production of leather. Our production capacity is 1,200,000 m2 of finished leather for a year or process capacity of hides 21 600 000 KGs a year. To keep position of a leader in our branch we constantly invest in technology and product development. In 2004 we modernised our site and prepared new production line, which enable us to produce leathers for automotive industry. Presently we work in three production departments. Chemical Department tans hides to wet-blue or crust, Finishing Department prepares finished leathers and Research & Development Department works on new models, new ways of finishing and colouring.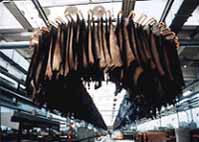 LOCATION ON THE MARKET
KZG S.A. is one of the biggest factories in Poland producing cattle leather for shoe uppers and accessories. We are the leaders in the Polish tannery market. This position was achieved thanks to constant improvement of quality, flexibility in our approach to the clients and their requirements. Big part of our production we sell in European Union, e.g. to Great Britain, Finland, Italy. We also have clients on East.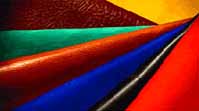 HISTORY
The history of Krakowskie Zaklady Garbarskie starts at the beginning of XX century when Dluzynscy Brothers Tannery was built at the Cracow district. The plant was located by an estuary of Wilga to Vistula River. Soon after opening, the tannery was bought by known industrialist from Radom, Rabinski. Next change of the owner had place in 1917. Four years after, in 1921, Polskie Zaklady Garbarskie (limited liability company) was changed into joint-stock company, which founders and owners of shares majority were: baron Jan Gotz Okocimski, count Edward Mycielski, Bank Malopolski and Polskie Zaklady Garbarskie (limited liability company). At the beginning the company was developing very dynamically, an employment increased, machines and devices were modernized, workshops were extended. Polskie Zaklady Garbarskie was one of the biggest and modern tanneries in the country. Unfortunately economical changes in foreign policy and stabilization of the currency in 1924 influenced negatively on further development and production in the tannery. During the Second World War the company was under German management and worked for German army.
After war there were few trials and ideas of reconstructing the leather industry. One of them was founding multi-plants trade production companies in August, 1947. That is how Krakowskie Zaklady Garbarskie arised. From 1959 there were made organizational changes in leather industry. The companies were joined and Krakowskie Zaklady Garbarskie become part of Innovative Plants of Leather Industry 'Podhale'. In the same time the company changed its method of processing from vegetable to chrome tanning, what allowed to shorten the time of production and gave new specialization on the market. In the '80 new production complex was started to be built in Cracow suburb, where all Cracow tanneries were transferred in 1990. On the area of 16 ha were built modern workshops, sewage treatment plant and office building. The old departments in the center were closed because of environment protection. In 1991 Krakowskie Zaklady Garbarskie become independent again and five years later, in 1996, was privatized and converted into joint-stock company. Since then the company works as Krakowskie Zaklady Garbarskie S.A.